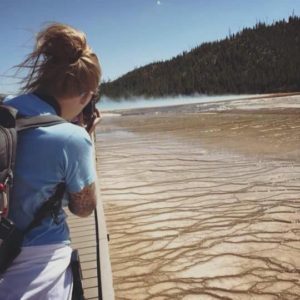 About Kim

Working as a freelance photographer and journalist in the Black Hills area, I enjoy traveling to chase the light or a story. A full tank of gas and a fully charged camera are all I need. When I'm not working on assignment I enjoy working on personal projects, spending time outdoors and watching re-runs of Forensic Files. Whether it's capturing a couple's wedding day or getting lost on dusty backroads to frame a sunset, nothing is quite as satisfying as getting the perfect shot.
The Black Hills are my home, and they are rich in history, culture, and spirituality. The Lakota people called these hills Ȟe Sápa, which means 'Black Mountains' or Pahá Sápa which means 'Black Hills'. It is believed they chose the names because the ponderosa pines that make up much of the Black Hills look black in color from a distance. (Bob Dylan even references the Black Hills in his song, 'Day of the Locusts': "…I put down my robe, picked up my diploma; Took hold of my sweetheart and away we did drive; Straight for the hills, the black hills of Dakota; Sure was glad to get out of there alive…") There are over one million acres in the Black Hills National Forest which are home to several animal species including mountain goats, elk, bison and bighorn sheep. You can see some of my landscape and wildlife photography on my Galleries page.
The history of this area is checkered, and there have long been debates on who the Black Hills "belong" to. Out of respect for the indigenous tribes that lived on these lands before the white settlers came, I have decided to donate the profits for any print sales of photos taken in the Black Hills to the Oglala Lakota Nation – specifically to the Pine Ridge Girls' School. The Lakota's motto has been 'The Black Hills Are Not For Sale' so I feel it is only right that I give back any money I make from their lands.
Please contact me if you have questions about prints or scheduling a shoot. You can use the contact form on this page or email me directly at kim@kimlathe.com.
Contact Kim: