[ngg_images source="galleries" container_ids="23″ display_type="photocrati-nextgen_pro_mosaic" row_height="180″ margins="5″ last_row="justify" lazy_load_enable="1″ lazy_load_initial="35″ lazy_load_batch="15″ display_type_view="default" ngg_proofing_display="0″ captions_enabled="0″ captions_display_sharing="1″ captions_display_title="1″ captions_display_description="1″ captions_animation="slideup" is_ecommerce_enabled="1″ order_by="sortorder" order_direction="ASC" returns="included" maximum_entity_count="500″]
In early 2017 I was asked by a non-profit civil rights group to travel to the Standing Rock Reservation in North Dakota to photograph some of the plaintiffs in the Jumping Eagle v. Trump law suit. (Several people have filed a suit against President Trump and the US Army Corps of Engineers over the Dakota Access Pipeline (DAPL)).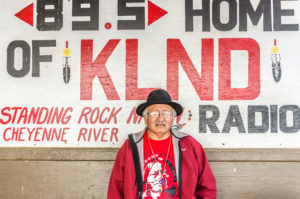 The first plaintiff I met was Virgil Taken Alive, I met him at the radio station he runs and he invited me in to his office to talk before we took pictures. He told me about the beginnings of the DAPL protest and talked a lot about the younger people on the reservation and how hopeful he is for their futures. As we talked a few young men came in and out of his office and he answered a phone call; it was clear that he believes in supporting the youth of Standing Rock and gives much of his time doing so.
He also talked about the internal conflicts within the tribe that have arisen because of the DAPL protests and expressed his concern for some people's motivations, but even during these quieter revelations he remained optimistic that their fight will continue on and eventually be won.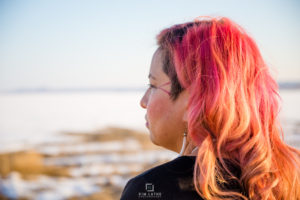 The next plaintiff I met was Waste Win, but we did not have much time together so I didn't get a lot of information on her involvement with the protests and the lawsuit. I believe she was arrested during a protest at or near the Oceti Sakowin camp, but I could be incorrect. I do know that shortly after we did these photos she traveled with a few of the other plaintiffs and the leader of the non-profit funding their lawsuit to Washington D.C. for hearings and testimonies regarding the DAPL.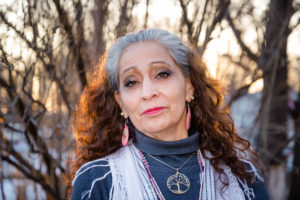 The third plaintiff I met was LaDonna Brave Bull, who has been a vocal and public activist against the DAPL for more than a year. I also did not get much time with her, her house was a flurry of activity with people leaving the camps and coming to her home and family staying with her. We just stepped outside and I snapped a few quick shots in her yard and then she was off into the house to help her grandchildren get their movie started and helping the campers get settled into her home.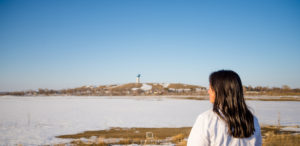 The last plaintiff I met that day was Dr. Sara Jumping Eagle, and because she was the last one that day and she had an open schedule we got to spend quite a bit of time together. She is an amazing woman; a mother, a doctor, a member of the Great Sioux Nation and an activist who has been fighting the DAPL from the beginning. We did several different shots in three or four different locations, starting with her overlooking the Missouri river, then we traveled up to one of the camps and our last shots of the day were on Highway 1806 outside of Cannon Ball, ND in front of the BIA roadblocks. The photo to the right was a particular shot she wanted to get – it is her looking over the Missouri river which runs right by the town she lives in and the water tower for the town. She said, "I want people to see how close the water is to our homes; to see the water tower that gives us water to drink and to know there are people who will suffer when the pipeline contaminates the river."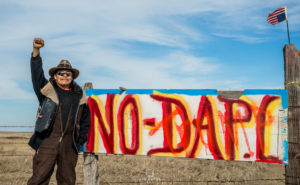 The next day I met the final plaintiff I was assigned to photograph, William "Wild Bill" Left Hand Sr. We met in Ft. Yates and took a few photos along the riverbank then went to his home outside of town because I really wanted a picture of him next to the sign he put in front of his property. After we took the picture, he looked at me and smiled and said, "Not too sure what they'll think of that," pointing to the upside down American flag he had placed in the fence-post. I smiled back and said, "That's why I wanted to take this picture." A lot of people think it is a sign of disrespect to display the American flag upside down, but in fact it is a written law that allows for such a display to signal distress. (THE UNITED STATES FLAG CODE: Title 4, Chapter 1: § 8(a)The flag should never be displayed with the union down, except as a signal of dire distress in instances of extreme danger to life or property.)
---
A friend and I went to Standing Rock in early December, 2016 as well:
[ngg_images source="galleries" container_ids="24″ display_type="photocrati-nextgen_pro_mosaic" row_height="180″ margins="5″ last_row="justify" lazy_load_enable="1″ lazy_load_initial="35″ lazy_load_batch="15″ display_type_view="default" ngg_proofing_display="0″ captions_enabled="0″ captions_display_sharing="1″ captions_display_title="1″ captions_display_description="1″ captions_animation="slideup" is_ecommerce_enabled="1″ order_by="sortorder" order_direction="ASC" returns="included" maximum_entity_count="500″]
The sun was just starting to rise in the horizon as we left Rapid City for Standing Rock Sunday morning. As we drove we talked about the pipeline and politics and everything in between. As we approached Eagle Butte we saw a sign for a Veteran's Rally point; we knew that hundreds of Vets were traveling to Standing Rock to show their solidarity with the Water Protectors and we were excited and humbled that we might see some of them. As it happened, we accidentally ended up in the middle of a caravan of Vets who were being escorted to the Oceti Sakowin camp by Tribal Police. The hour and half drive there was emotional and I found myself crying more than once. Nearly every car we passed was either pulled over to show their respect for the Veterans or they drove by with their fists held high out their windows, cheering the Vets on.
Traffic slowed from a crawl to a stop as we approached the camp entrance, which I was grateful for because it gave me a chance to take it all in. Oceti Sakowin is an awesome sight to behold. Before you even enter the camp you can feel the energy, the unity, the purpose of that place. As we were waiting in line we heard cheers erupting from all over the camp – that was the moment the Water Protectors heard about the permit being denied. People were walking along the roadside spreading the good news to the cars parked in line. As we entered the camp people were smiling and hugging each other, singing songs and cheering over the good news. I feel so blessed to have been a witness to such joy from so many who have been fighting so hard, for so long. Shouts of "Mni Wiconi!" and beating drums could be heard all over camp.
Despite the thousands of people flooding in everyone was friendly and helpful and patient with each other. I had been asked to check in on a friend's family and at first I was doubtful we would even find their yurt, but the directions my friend gave me and all the helpful people in camp made it easier than I thought – we found the yurt within the first 10 minutes we were there. I went inside and asked them if they needed anything, then took some containers to fill up with water and left them two gallons of drinking water. As we left the yurt we were excited to help (though it seemed like such a small gesture to us) and took off to explore the camp.
The air was crisp and smelled of campfires, sage and generator fuel. In the distance you could hear nails being pounded into wood as people prepared for the incoming blizzard and the nearly constant buzz of the helicopter circling the camp above. We found the water tank but the nozzle had frozen and a few people were working on it so we decided to walk around some more. We came upon a totem pole of signs that people had made to show where they had traveled from. I was stunned at the distances people have traveled to support the Water Protectors, they are coming quite literally from all over the world.
We had been warned that some may not be very welcoming to us, since both my friend and I are blonde, white girls (as my friend described us to her family, we are "Lily-white girls with big hearts"), but everyone was so nice to us. Within the first half-hour of walking around I was offered food and something to drink (both of which I politely declined because we brought our own supplies; it was important to my friend and I that we didn't strain the resources of the camp beyond us simply being there and our bodies and vehicle taking up space). It is nearly impossible to describe the feelings you have when you are in Oceti Sakowin; though it was cold and windy, I don't remember even thinking about that, I was just so grateful and excited to bear witness to history happening. There is a strong sense of community, and everyone was either doing something to sustain the camp or help each other. As we walked by the water tank with the frozen valve at different times that day we saw different people working on it, each one doing their best to make it better for everyone. That simple, plastic water tank, to me, was a powerful symbol of the spirit of that camp materializing.
Finally the sun was getting low in the sky and we decided we should get the water and take it to my friend's family before it got dark. We said our goodbyes and got into the car to leave camp as the sun was setting. As we left the camp behind us on Highway 1806, the dark sky was lit with the red glow of taillights from the stream of cars hundreds long still pouring into camp.
I left Oceti Sakowin with a full heart and a new understanding of humanity, or at least of what it should be.