---
I traveled to the Jackson Hole area for the solar eclipse on August 21st so I could try to photograph totality. I wasn't sure if I would get any good shots, but I was excited to just be there to see and experience it. I went a few days early so I could go to Yellowstone and see some sights around the Grand Tetons (and so I could avoid the mass exodus to the totality zone).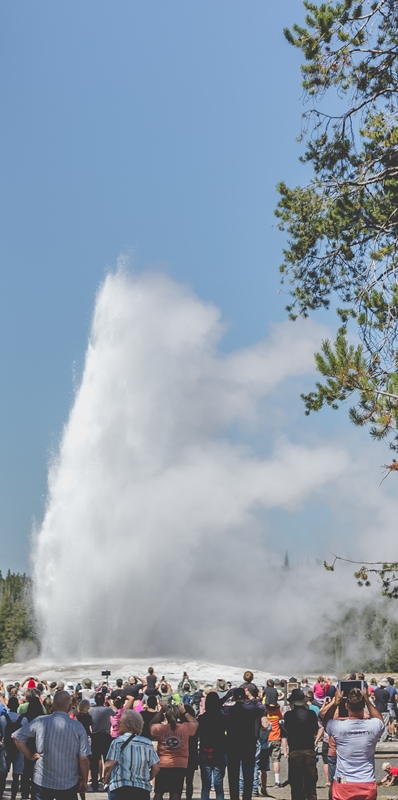 My first day exploring was spent around the Grand Tetons and the next day we headed to Yellowstone to check out Old Faithful and the Grand Prismatic Spring. Just as we walked up to Old Faithful it started spouting. I couldn't believe how many people were there to watch it! Later I noticed one of my shots looks kind of like a bear, which is fitting since not long after we left Yellowstone we saw a Grizzly bear and her two cubs. I saw so many amazing sights in just a few short days, it was overwhelming to take it all in. You can see some of the photos I took in my Landscapes & Skyscapes gallery.
On the morning of the eclipse, we arrived at the Snake River to set up the camera. Other people began arriving as the morning went on, dragging coolers and chairs to the water's edge. It was just like any other summer day, sun shining and birds singing, but there was an electricity, an energy in the air. Although it looked like a regular day, it didn't feel like one.
Once the eclipse began, I took a photo every 30 seconds or so and alternated between looking through my camera and my eclipse glasses. As totality approached the light in the sky became an eerie glow, unlike any sunrises or sunsets or stormy skies I have ever seen. The temperature also dropped drastically, and fast. Once totality hit, the birds all suddenly stopped singing, the air was cold, and for a split second there was total darkness. Then the sun's Corona burst out all around the moon in bright white rays. It was the most amazing sight I have ever seen; we could hear people along the river bank cheering and clapping.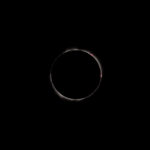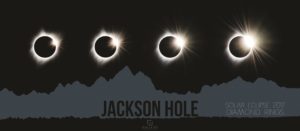 As totality passed the sun peeked out from behind the moon and created what photographers refer to as the "Diamond Ring" shot. Also seen during this eclipse were red spots or flares called Bailey's beads. These occur during an eclipse when the moon crosses the sun and the rugged lunar topography allows light to shine through. (Click on the image to the right to see Bailey's beads)
I saw and experienced so many things that I did not or could not capture with my camera. It was a life-changing venture in more than one way and I am so thankful I made the trip.