I offer a variety of graphic design services – below are some recent samples of my work. If you are interested in my design services, please Contact Me for pricing and availability.
---
Album Cover Design
I am just delving into the album art world, but so far I am loving it! I was asked to create the covers and lyric sheets for Elaine Romero-Douglas' debut album, Phantasm.
---
Book Cover Design
A few years ago, I did a Halloween photo shoot with a friend's daughter. Her dad is a local horror author and ended up using one of the images from our photo shoot for the cover of one of his books. I am in the process of designing two covers for other local writers and will share those designs once the books are published.
---
Magazine Layout & Design
I'm the Graphic Designer for the Black Hills' newest arts & entertainment publication – check out the sample issue below!
---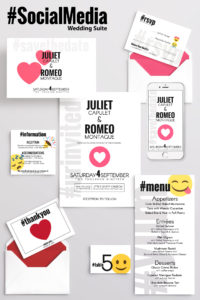 Wedding Suites
I can create a custom set of wedding essentials to match each Bride & Groom's style, color palette, and budget. The contents on each wedding bundle can change, but each bundle generally includes: Save the Date or Engagement Announcement (digital versions for Instagram and Facebook are also included!); Wedding Invitation; RSVP card; Information card; Menu; Program; and a Thank You card. Click here to find out more!
---
Other Graphic Design Services:
Christmas Cards
I can turn your favorite family photos into holiday greeting cards of any shape and size. Digital cards for Social Media are also available!
Graduation Announcements
I have made countless graduation announcements for the seniors I have photographed – but even if I didn't take your senior photos I can still design awesome announcements and invites to match your style and your budget.
Advertisements/Flyers/Posters
I've made several posters, flyers, print ads/graphics and digital ads/graphics for local organizations and events.
Business Cards
Easy! And fun – business cards come in several different shapes, sizes, and can be printed on all kinds of materials! Update your look with a new business card design.
Logos
Whether you need a logo for a brand, a business, a group, an event, or just for fun – I can help. I am a font hoarder and love any excuse to play with fonts and graphics.
---
Graphic Design Projects
Here are a few of my personal design projects: